Utpost Hållö - Hostel
​
Home - Prices - Transport - Café - Find us
___________________________________________________________
Utpost Hållö is a charming little hostel and this location can also be used
for conferences. For the summer months there is also a café open in the
main house. The hostel has 6 rooms with 4 beds and 6 rooms with 3 beds,
all of them equipped with showers and sinks.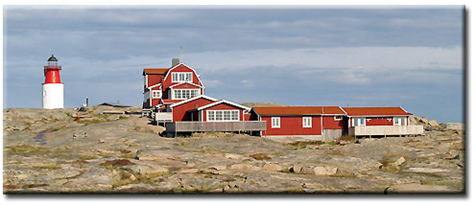 This little getaway is situated approximately 15 minutes by boat from
Smögen, in the Western Sea – A small hostel with great opportunities.
The island is these days a nature reserve and here you can enjoy
romantic sunsets or, on occasions, a fantastic view of a roaring
stormy sea. Feel refreshed after taking a swim among the salty
waves and enjoy the calm, stress free environment.
Hållö is one of the most beautiful and unusual of places throughout the
entire west coast. Because of this 'Hållöarkipelagens naturreservat'
(Hållö nature reserve) was founded and this poses some special demands
on the people who visit the island. Your pets have to be kept on a leash,
and littering and fire are not allowed.
​
To comply with these demands we have decided to not allow pets on
our premises and naturally all our rooms are smoke free.
​
To keep Hållö free from litter we have had a rubbish collection space,
"Sopan" installed by Hållö marina. We ask all our guests to bring all their
rubbish to "Sopan" and use the recycle facilities provided.
​
There is also a large grill at the facility at your disposal, either bring
your own coal or buy for SEK 40. Disposable grills are not
allowed in the nature reserve.
​
Booking: +46(0)703-53 68 22
Weekdays 8-16
Prices from SEK 600/day
​
You will never forget a visit on Hållö...!