Transport
​
Home - Prices - Transport - Café - Find us
___________________________________________________________
​
Transportation – Hållöexpressen
​
​
During summer weeks 26 - 33, Hållöexpressen departs from
the bus station in Kungshamn every half hour according to a separate
timetable and costs 110 SEK for a return ticket. Children under age 12 pay
50 SEK. Remember that the last ferry leaves at 16:30. For prepaid
transports – show confirmation or invoice to the shipmaster.
​
Weeks 13 - 25 & 34 - 48 Hållöexpressen departs
from Hasselösund/Smögen at 13:00 (on Fridays also
at 16:00) and back from Hållö at 13:30 (on Fridays also at 16:30).
The voyage out and back MUST be booked by the shipmaster (this also
applies to prepaid transports) via this phone number: +46703-36 05 28.
One return ticket costs 125 SEK. Children under age 12 pay 50 SEK.
Additional fee 500 SEK at other times of travel. That fee will be paid
directly on the ferry. For a discount regarding larger parties than 20 people,
please contact Utpost Hållö. There is parking by Hållöexpressen
and the shipmaster will assign a spot. For prepaid transports
show confirmation or invoice to the shipmaster.
​
At the dock on Hållö there are wheelbarrows for the luggage
and the hostel is approximately 500 meters away. Make sure to bring
all your own food during your stay. In the hostel we have a
fully equipped kitchen.
​
Here are the ferry. Click here.
​
​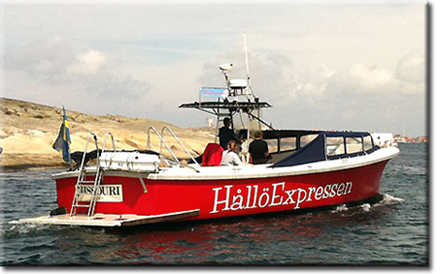 ​
Hållöexpressen from Kungshamn.
​